in the next couple days we'll have the new sign up sheet done. Please pay close attention to Marvel stuff-- there are a lot of Secret Wars related books on there. Some of these will be taking place of regular books, like Spider-Man 2099 becoming Secret Wars 2099, and we'll do our best to match the titles with previously existing pull lists. But as always, communicating to us is best way to ensure things won't sell out from under you!
LAST CALL LIST: This one's a lot bigger than last week's. Here's your last chance to add the following titles before our order quantities lock with our distributor-- please let us know by Monday 3/9 at 7PM!
CONVERGENCE (DC Comics) This is the main weekly miniseries that'll tether all the April and May shipping DC titles! It's kind of a big deal.
DRONES (IDW) Sci fi war mini set in Las Vegas.
EMPIRE UPRISING (IDW) Mark Waid and Barry Kitson return to their highly regarded comic about a super-villain who successfully conquered his world.
UNCLE SCROOGE (IDW) Kicking off a whole new round of classic Disney comics!
LEGACY OF LUTHER STRODE (Image) Completing the trilogy!
NO MERCY (Image) Powerhouse creators Alex de Campi and Carla Speed McNeil team up for a new Image ongoing!
AVENGERS MILLENIUM (Marvel) Weekly 4-parter featuring the characters in the movie,not connected to any big marvel event stuff.
AVENGERS ULTRON FOREVER (Marvel) This looks awesome. Alan Davis writes and draws this time traveling tale of Avengers from different eras trying to take down Ultron.
KANAN: THE LAST PADAWAN (Marvel) Based on the Star Wars: Rebels characters!
UNCANNY INHUMANS (Marvel) Charles Soule and Steve McNiven made a great team for Death of Wolverine-- now they're combining their talents to give us the Inhumans book we've been looking for!
UFOLOGY (Boom) James Tynion's new series about aliens in the midwest.
LOOKING FOR GROUP (Dynamite) Long-running fantasy comedy webcomic now a printed comic!
UNCANNY SEASON TWO (Dynamite) A super powered thief's story.
RIC & MORTY (Oni) Hit cartoon becomes comic!
Here's a little test to see how many folks are reading through these lists. Starting Monday 3/9, until

Sunday 3/15

, anyone who says, "homina homina homina" when they bring their purchase to the register gets 5% of their purchase.
Holy moly, did you see this?
SHIPPING: Here's what's arriving on WEDNESDAY MARCH 11 for YOU:
ACTION COMICS #40 MOVIE POSTER ED 3.99
ADVENTURE TIME MARCELINE GONE ADRIFT #3 3.99
ALL NEW ULTIMATES TP VOL 02 NO GODS NO MASTERS 17.99
ALTERED STATES RED SONJA ONE SHOT 3.99
AMAZING SPIDER-MAN #16 3.99
AMAZING SPIDER-MAN SPECIAL #1 4.99
ARCHIE COMICS DIGEST #259
ARCHIE GIANT COMICS PARTY TP 7.99
ASTRO CITY PRIVATE LIVES HC 24.99
ASTRO CITY VICTORY TP 16.99
ATOMIC ROBO TP VOL 09 KNIGHTS OF GOLDEN CIRCLE 17.95
BATMAN ARKHAM KNIGHT #1 3.99
BATMAN BEYOND JUSTICE LORDS BEYOND TP 16.99
BIG TROUBLE IN LITTLE CHINA #9 3.99
BILL & TED MOST TRIUMPHANT RETURN #1
(OF 6) 3.99 Can a comic hope to capture the nuance of the films?
BRAVEST WARRIORS #30 3.99 COPPERHEAD TP VOL 01
A NEW SHERIFF IN TOWN 9.99 One of the books everyone's paying attention to these days. If you missed the singles, here's a value-priced introductory trade for you!
DEADPOOL TP VOL 07 AXIS 17.99
DETECTIVE COMICS ENDGAME #1 2.99
EARTH 2 WORLDS END #23 2.99
ESCAPE FROM NEW YORK #4 3.99
FABLES THE WOLF AMONG US #3 3.99
FANTASTIC FOUR #644 CHARACTER VAR PI
FANTASTIC FOUR #644 CONNECTING VAR PI
FBP FEDERAL BUREAU OF PHYSICS #19 2.99
GOD IS DEAD TP VOL 04 19.99
GODZILLA CATACLYSM TP 19.99
GREEN LANTERN CORPS #40 3.99
GREEN LANTERN CORPS #40 MOVIE POSTER ED 3.99
GRONK A MONSTERS STORY GN VOL 01 9.99
GUARDIANS TEAM-UP #2 3.99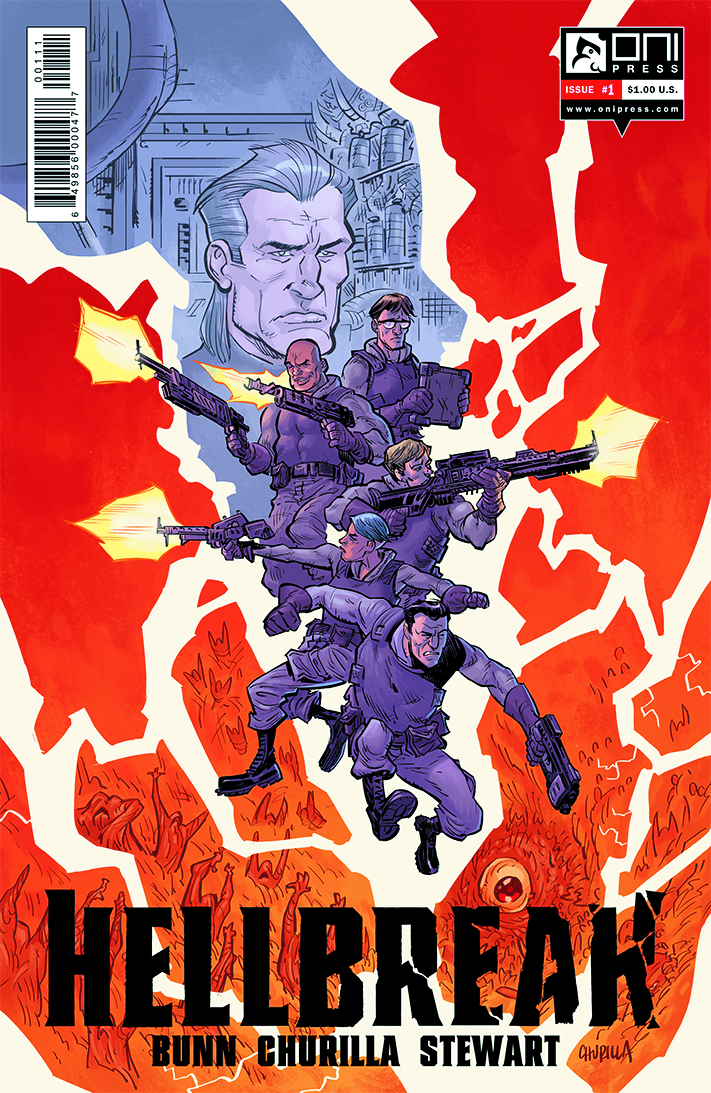 HELLBREAK #1
1.00 Cullen Bunn and Brian Churilla bring us this story of a battalion of hardened soldiers going into hell for a rescue mission.
HELP US GREAT WARRIOR #2 3.99
HEXED #8 3.99
HOWARD THE DUCK #1
3.99 Marvel's big debut of the week, by the great team of Chip (Sex Criminals) Zdarsky and Joe (Black Canary & Zatanna) Quinones!
HOWARD THE DUCK #1 BLANK VAR PI
HOWARD THE DUCK #1 HENDERSON VAR PI
HOWARD THE DUCK #1 MAYERICK VAR PI
HOWARD THE DUCK #1 MOVIE VAR PI
HOWARD THE DUCK #1 POPE VAR PI
HOWARD THE DUCK #1 YOUNG VAR PI
HOWARD THE DUCK #1 ZDARSKY VAR PI HUMANS TP VOL 01
HUMANS FOR LIFE 9.99 One of the best new titles of the last year. Explore the Vietnam era of America in a world of apes and biker gangs. Very very good stuff.
INJUSTICE GODS AMONG US YEAR THREE #11 2.99
ITTY BITTY COMICS GRIMMISS ISLAND #1 2.99
JUSTICE LEAGUE TP VOL 05 FOREVER HEROES (N52) 14.99
JUSTICE LEAGUE UNITED #10 3.99
JUSTICE LEAGUE UNITED #10 MOVIE POSTER ED
KING FLASH GORDON #2 (OF 4) 3.99
LUCKY LUKE TP VOL 50 SEVEN STORIES 11.95
MAGNUS ROBOT FIGHTER #12 3.99
MARVEL SELECT CABLE AF 24.99
METABARONS GENESIS CASTAKA HC 29.95
MILES MORALES ULTIMATE SPIDER-MAN #11 3.99
MODESTY BLAISE TP VOL 26 KILLING DISTANCE 19.95
MOUSE GUARD LEGENDS OF GUARD VOL 03 #1 (OF 4) 3.99
MUSEUM OF MISTAKES FART PARTY COLLECTION TP 24.00
NEW 52 FUTURES END #45 (WEEKLY) 2.99
NEW AVENGERS #31 TRO 3.99
NEW AVENGERS #31 WOMEN OF MARVEL BRAGA VAR PI
NEW SUICIDE SQUAD #8 2.99
NEW VAMPIRELLA #10 3.99
NINJAK #1
3.99 These new Valiant titles are really kicking up the quality a few notches.
ODDLY NORMAL TP VOL 01 9.99
PATHFINDER ORIGINS #2 (OF 6) 4.99
PRIDE & PREJUDICE SELFMADEHERO ED GN 19.95
SCOOBY DOO WHERE ARE YOU #55 2.99
SIXTH GUN DUST TO DUST #1 3.99
SMALLVILLE SEASON 11 CONTINUITY #4 (OF 4) 3.99
SONIC SUPER DIGEST #11 6.99
SONIC THE HEDGEHOG #270 3.99
SOUTHERN CROSS #1
2.99 New Becky Cloonan and Andy Belanger series from Image! Can't wait.
SPAWN RESURRECTION #1 2.99
SPIDER-GWEN #2
3.99 You love her!
SPIDER-GWEN #2 PICHELLI VAR PI
SPIDER-MAN AND X-MEN #4 3.99
SPONGEBOB COMICS #42 2.99
STAR TREK ONGOING #43 3.99
STAR WARS #2 2ND PTG 3.99
STAR WARS #3
3.99 You love this too!
STAR WARS #3 CASSADAY SKETCH VAR PI
STEVEN UNIVERSE #7 MAIN CVRS 3.99
SUPERIOR IRON MAN #6 3.99
SUPERMAN #38 2ND PTG 4.99
SURFACE #1
3.50 Wow, another exciting looking Image debut from Ales Kot and Langdon Foss. Image sure is nailing it these days.
THOR #6 INHUMAN 50TH ANNIVERSARY FERRY VAR PI
TINY TITANS RETURN TO THE TREEHOUSE TP 12.99
TUKI SAVE THE HUMANS #3 3.99
X-O MANOWAR TP VOL 08 ENTER ARMORINES 14.99
That's it for now, see you soon!