I'm back from my travels into the heartland (and some dirtier regions) of the US, ready to get immersed in the world of comics again! I'd like to thank Rawn, Brandon and Mark for keeping the shop running in my absence-- good work, gents! Now let's dive in: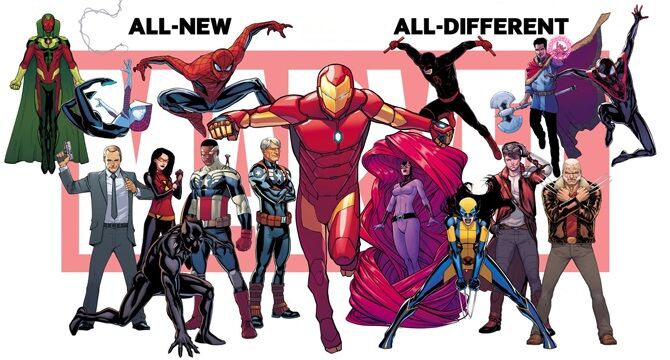 You may have heard that in October, post-Secret Wars, Marvel is doing a line-wide relaunch. This is 100% true! How it's unlike DC's New 52 reboot from a few years ago, is that they're not wiping the slate clean and inserting younger versions of the characters into continuity. Whatever happens to conclude Secret Wars sets up the new paradigm, but these characters will still be the ones in which whose stories you've been invested. Was that grammatically correct? Anyway, this week we'll have for you a full list of new titles, some of which will pretty much be carrying on as they were, same creative teams and stories and whatnot. Those sublists will be rolling over, and I'll designate which books will do so in as easy-to-follow a manner as possible. Exciting times!
LAST CALL! Our orders lock on the following titles very very soon, please be sure to let us know if you'd like to add any to your pull lists!
ZODIAC STARFORCE (Dark Horse) An elite group of teenage girls with magical powers protect the earth from monsters-- looks very promising, very colorful and fun!
OVER THE GARDEN WALL (Boom!) If you haven't watched this utterly charming (and creepy) cartoon series, it's streaming on hulu now. The comic had a one shot that vanished in seconds late last year, I expect this'll do the same. Add it!
STRINGERS (Oni) Nighttime news chasers get on the wrong side of a bad situation and have to go on the run themselves.
SHIPPING! Here's what's coming WEDNESDAY, AUGUST 5:
AGE OF APOCALYPSE #2 3.99
AGE OF APOCALYPSE #2 RAMOS VAR PI
AGE OF REPTILES ANCIENT EGYPTIANS #3 (OF 4) 3.99
AMAZING SPIDER-MAN RENEW YOUR VOWS #3 3.99
AMAZING SPIDER-MAN RENEW YOUR VOWS #3 PICHELLI VAR PI
AMERICAN BARBARIAN COMP SERIES HC 29.99
AMERICAN VAMPIRE SECOND CYCLE #9 3.99
ANGEL AND FAITH SEASON 10 #17 3.99
ANGELA ASGARDS ASSASSIN TP VOL 01 PRICELESS 17.99
ART OF SATOSHI KON HC 29.99
BABA YAGAS ASSISTANT GN
16.99 The great Emily Carroll got the world to sit up and take notice with last year's INTO THE WOODS. Check out this adaptation of a beloved Russian folktale!
BABY SITTERS CLUB COLOR ED GN VOL 02 TRUTH ABOUT 10.99
BALTIMORE CULT OF THE RED KING #4 (OF 5) 3.99
BIG TROUBLE IN LITTLE CHINA #14 3.99
BOBS BURGERS ONGOING #2 3.99
BOWERY BOYS OUR FATHERS HC
19.99 Ian Bertram. Remember the name, he's poised to shoot into megastardom this year, after doing stints on Batman Eternal, E is for Extinction and more. His Frank Quitely/Rafael Grampa vibe has a lot of folks salivating. Me included.
BRIGHT EYED AT

MIDNIGHT

HC 22.99
BROKEN WORLD #3 (OF 4) 3.99
BUCKY BARNES WINTER SOLDIER #10 3.99
CIVIL WAR #2 COIPEL VAR PI
CIVIL WAR #2 MALEEV LANDSCAPE WRAPAROUND VAR PI
CONSTANTINE THE HELLBLAZER #1 2ND PTG 2.99
CREEPS GN VOL 01 NIGHT OF FRANKENFROGS 9.95
DARK CORRIDOR #1
3.99 Rich Tommaso takes his unique brand of indy horror to Image! Smart move for both parties.
DEADPOOL & CABLE ULTIMATE COLLECTION TP BOOK 02 39.99
DETECTIVE COMICS #43 3.99
FBP FEDERAL BUREAU OF PHYSICS #23 3.99
FLASH SEASON ZERO #11 2.99
FLY OUTBREAK #5 (OF 5) 3.99
GIANT SIZE LITTLE MARVEL AVX #3 3.99
GIANT SIZE LITTLE MARVEL AVX #3 CHEUNG VAR PI
GIRL GENIUS SECOND JOURNEY HC VOL 01 BEAST OF THE 50.00
GOTHAM CITY POLICE BADGE 29.95
GUARDIANS OF KNOWHERE #2 3.99
GUARDIANS OF KNOWHERE #2 YOUNG CONNECTING VAR PI
GUARDIANS TEAM-UP #9 3.99
INFINITE CRISIS FIGHT FOR THE MULTIVERSE TP 14.99
INFINITY GAUNTLET #3 3.99
INFINITY GAUNTLET #3 BIANCHI VAR PI
INJUSTICE GODS AMONG US YEAR FOUR #7 2.99
INK FOR BEGINNERS GUIDE TO GETTING TATTOOED 4.00
JLA GODS AND MONSTERS WONDER WOMAN #1
3.99 Perfect timing, what with the cartoon being out and awesome and everything.
JLA GODS AND MONSTERS WONDER WOMAN #1 VAR ED PI
LADY MECHANIKA TABLET OF DESTINIES #4 (OF 6) 3.99
LEGEND OF ZELDA LINK TO THE PAST GN 19.99
LONG DISTANCE #3 (OF 4) 4.99
LOOKING FOR GROUP #5 4.99
MAD MAX FURY ROAD MAX #2 4.99
MARVEL 3¾" INFINITE SERIES ACTION FIGURE ASSORTMENT PI
MARVEL UNIVERSE AVENGERS ASSEMBLE SEASON TWO #10 2.99
METAL HURLANT COLLECTION HC VOL 02 29.95
MINIMUM WAGE SO MANY BAD DECISIONS #4 (OF 6) 3.99
MY LITTLE PONY FRIENDS FOREVER #19 3.99
OUTCAST BY KIRKMAN & AZACETA #11 2.99
PATHFINDER ORIGINS #6 (OF 6) 4.99
POWER MAN AND IRON FIST EPIC COLLECTION TP HEROES 39.99
POWERPUFF GIRLS SUPER SMASH-UP TP VOL 01 19.99
PS BLACKCROSS #5 (OF 6) 3.99
REGULAR SHOW ORIGINAL GN VOL 02 NOIR MEANS NOIR 14.99
SCRATCH9 CAT OF NINE WORLDS TP 24.99
SPIDER-ISLAND #2 (OF 5) 3.99
SPIDER-ISLAND #2 (OF 5) DELLOTTO VAR PI
STAR TREK ONGOING #48 3.99
STAR WARS #4 CASSADAY 2ND PTG VAR 3.99
SWORDS OF SORROW THORIS ADLER #3 (OF 3) 3.99
TEEN TITANS TP VOL 01 BLINDED BY THE LIGHT 16.99
THIS DAMNED BAND #1 (OF 6) 3.99
TMNT COLOR CLASSICS SERIES 3 #8 3.99
ULTIMATE END #4 (OF 5) 3.99
VEDA ASSEMBLY REQUIRED TP 14.99
VENOM BY REMENDER COMPLETE COLLECTION TP VOL 02 34.99
WALKING DEAD AMC 2016 16 MONTH WALL CAL 14.99
WILL EISNER SPIRIT #2 3.99
WITCHER FOX CHILDREN #5 (OF 5) 3.99
Y THE LAST MAN TP BOOK 01 19.99
ZOMBIES VS ROBOTS #8 4.99
That's it for now, see you soon!
PKG/VC