A little bit more about the dang bike race comic up real quick-- after talking to some bike folks in the know, it looks like most streets will be open and clear by about

3:30-4:00

every day. To make your lives a little easier, we are going to stay open until

9PM

the Monday thru Friday of that week.
Also, please be advised: we will be opening at

11:30AM

on Monday, August 31. I might be able to get in a bit earlier than that, but not by the normal

10AM

. This is a one time thing, and we apologize for any inconvenience.
POWER CUBED (Dark Horse) Aaron Lopresti is best known for runs on Justice League and Wonder Woman, he now turns his focus to his first creator owned action series from Dark Horse!
BEAUTIFUL WAR (IDW) Ashley Wood is the artist that initially defined the look and feel of IDW, but over the years his attentions have shifted away from comics. This here's his first new comic in a long time!
FURY: SHIELD 50TH ANNIVERSARY (Marvel) Another one-shot, this time featuring the original Nick teaming up with his recently discovered son who looks exactly like the Ultimate Universe version. Ahhh, movie synergy.
SHIPPING! Here's what's coming on WEDNESDAY, SEPTEMBER 2:
8HOUSE #3 KIEM PART ONE 2.99
AGE OF APOCALYPSE #3 3.99
AGE OF APOCALYPSE #3 RODRIGUEZ VAR PI
AGE OF REPTILES ANCIENT EGYPTIANS #4 (OF 4) 3.99
AGE OF ULTRON VS MARVEL ZOMBIES #4 3.99
ALIENS SALVATION HC 10.99
ALIENS VAMPIRELLA #1 (OF 6) 3.99
AMAZING WORLD OF GUMBALL TP VOL 01 14.99
ANGEL AND FAITH SEASON 10 #18 3.99
AVENGERS BY JONATHAN HICKMAN HC VOL 02 34.99
BALTIMORE CULT OF THE RED KING #5 (OF 5) 3.99
BATMAN ARKHAM KNIGHT #8 3.99
BOBS BURGERS ONGOING #3 3.99
BROKEN WORLD #4 (OF 4) 3.99
CROSSED BADLANDS #84 3.99
DANGER GIRL RENEGADE #1 (OF 4) 3.99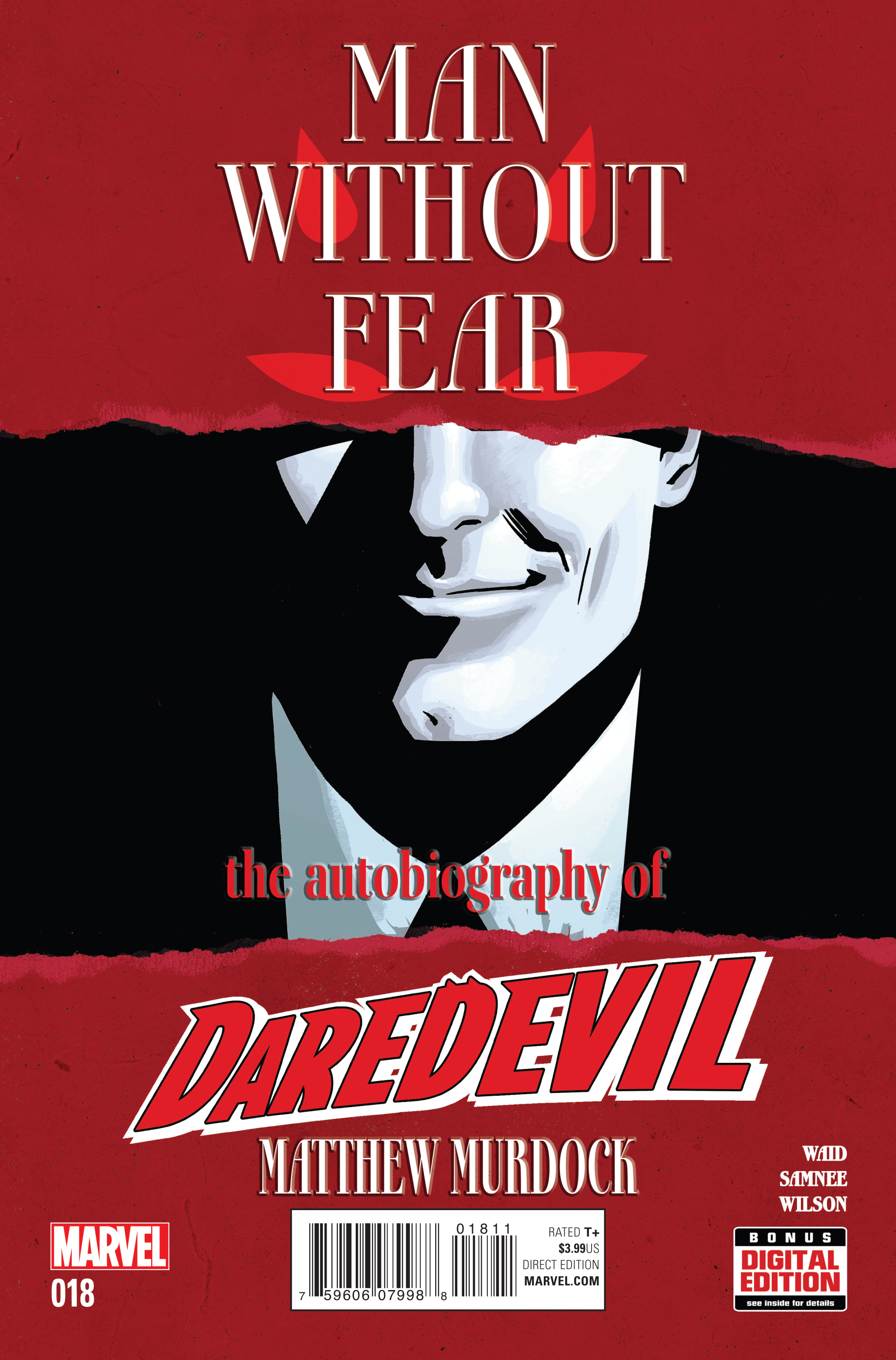 DAREDEVIL #18
3.99 Mark Waid & Chris Samnee's landmark run comes to a close, and I think it stands right up there with the runs by Miller, Bendis & Brubaker.
DARK TOWER DRAWING OF THREE LADY OF SHADOWS #1 3.99
DC COMICS BOMBSHELLS #2 3.99
DEADPOOL VS THANOS #1
(OF 4) 3.99 My money's on Thanos.
DEADPOOL VS THANOS #1 (OF 4) ACTION FIGURE VAR PI
DETECTIVE COMICS #44 3.99
DOCTOR WHO 2015 FOUR DOCTORS #4 (OF 5) 3.99
DRAGON BALL 3IN1 TP VOL 10 14.99
DYING AND THE DEAD #3 3.50
EVIL DEAD 2 #2 (OF 3) 3.99
FBP FEDERAL BUREAU OF PHYSICS #24 3.99
FLASH SEASON ZERO #12 2.99
FLASH TP VOL 05 HISTORY LESSONS (N52) 14.99
GOOSEBUMPS GRAPHIX FULL COLOR TP VOL 01 12.99
GRANT MORRISON'S 18 DAYS #3 2.99
HAIL HYDRA #2 GARNEY VAR PI
HEAVY METAL #276 CVR A KIRBY 7.95
HILO GN VOL 01 BOY WHO CRASHED TO EARTH 13.99
HOUSE OF M #2 HUMMEL VAR PI
INJUSTICE GODS AMONG US YEAR FOUR #9 2.99
INVISIBLES TP #3 ENTROPY IN THE UK 19.99
JEM & THE HOLOGRAMS #6 3.99
JERUSALEM CHRONICLES FROM THE HOLY CITY TP 19.95
JESSICA JONES TP VOL 01 ALIAS 24.99
JIMBO JONES #1 (ONE SHOT) 3.99
JUSTICE INC AVENGER #4 3.99
KOMOMO CONFISERIE GN VOL 01 9.99
LADY DEATH APOCALYPSE #0 6.99
LAST DAYS OF AMERICAN CRIME HC 24.99
LEGEND KORRA ART ANIMATED SERIES HC BOOK 04 34.99
MAD MAX FURY ROAD TP 14.99
MARCH GRAND PRIX YR GN VOL 01 RACE AT HAREWOOD 5.95
MARCH GRAND PRIX YR GN VOL 02 BAKERS RUN 5.95
MARCH GRAND PRIX YR GN VOL 03 GREAT DESERT RALLY 5.95
MINIMUM WAGE SO MANY BAD DECISIONS #5 (OF 6) 3.99
MIRACLEMAN BY GAIMAN AND BUCKINGHAM #1 4.99
MOCKINGBIRD SHIELD 50TH ANNIVERSARY #1 4.99
MOCKINGBIRD SHIELD 50TH ANNIV #1 WARD VAR PI
MOCKINGBIRD SHIELD 50TH ANNIVERSARY #1 4.99
NAILBITER TP VOL 03 BLOOD IN THE WATER 14.99
NEW 52 FUTURES END TP VOL 03 29.99
PLUTONA #1
2.99 Jeff Lemire's next big thing, about a group of kids who discover a dead super-hero in the woods. Lemire is in the process of breaking onto the highest echelon of comic creators, it's been fun to watch him channel his abilities to greater and greater result.
POKEMON XY GN VOL 04 4.99
POSEIDON IX ONE SHOT 3.99
PROVIDENCE #4 (OF 12) 4.99 SACRED HEART GN
24.99 Collecting the mega-popular webcomics by indy sensation Liz Suburbia!
SHERLOCK HOLMES 7 PER-CENT SOLUTION #1 (OF 5) 3.99
SILK #7 GURIHIRU MANGA VAR PI
SPIDER-ISLAND #3 (OF 5) 3.99
SQUADRON SINISTER #3 3.99
SQUADRON SINISTER #3 RENAUD VAR PI
STAR-LORD AND KITTY PRYDE #3 3.99
STAR-LORD AND KITTY PRYDE #3 ANKA VAR PI
SUICIDE SQUAD TP VOL 01 TRIAL BY FIRE NEW ED 19.99
SWORDS OF SORROW MISS FURY LADY RAWHIDE SPEC 3.99
THIS DAMNED BAND #2 (OF 6) 3.99
TOIL & TROUBLE #1 (OF 6) 3.99
TRANSFORMERS MORE THAN MEETS EYE #44 3.99
WALT DISNEY DONALD DUCK DAILY NEWSPAPER COMICS HC 39.99
WAR STORIES TP NEW ED VOL 02 24.99
WE STAND ON GUARD #3 2.99
WONDER WOMAN TP VOL 06 BONES (N52) 14.99
That's it for now, see you soon!