It's a new year! Mileage may vary on one's excitement levels about that, but one thing is certain: there are some damn fine comics on the way in the coming months! And we will do our best to match you with the right ones! Onward and upward.
A quick note about SUB BOXES, or more of a reminder: we have noticed a rise recently in having more issues on the rack of some titles than we order, which means some subscribers are putting back things they don't but not telling us. PLEASE tell us. Our feelings aren't hurt. We want you to buy what you want. By sneaking stuff on the rack without saying you're making us spend money and resources we don't need nor want to. Communication is healthy!
DRAW MONTHLY is officially ON! The first character: Dr. Strange! When's it due?

Wednesday, January 27

! Who can enter? Everyone! What are the media and size rules? Any media, no larger than 9" x 12"! What does the winner get? Store credit and the next DRAW MONTHLY character pick! Who is judging? Rawn, me (Patrick), and a rotating respected local celebrity art person! What fun! Get to drawing!
Here's Rawn's list for best comics of 2015!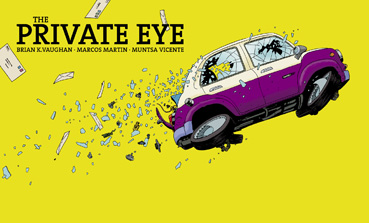 1. THE PRIVATE EYE: A future where the internet has failed and the most prized asset one has is anonymity. BKV's social phobic future noir is finally in print for the comic luddites like me.
2. SOUTHERN BASTARDS: This level of bastardness is not to be trifled with. Each issue is beautiful in the rich characters woven into horrid mess that is small town mafia football.
3. SAGA is back from break and they can't stop won't stop.
4. SPACE DUMPLINS: is there anything Craig Thompson can't do? Well, maybe. But his latest heartfelt kids book about a girl braving the vastness of space to find her Dad was a wonderful surprise to this year's comics bounty.
5. RICK & MORTY: I absolutely love this show! Most times licensed comics like these don't resonate with me, yet this comic captures the TV show's voice and quirkiness. I highly recommend issue #8, it is a great one-shot Christmas issue written and drawn by Zac Gorman.
6. SAINTS. I have the highest hopes for this series. Reincarnated Saints are searching for each other and with the help of a talking painting being led on a quest.
My GN list will be next week, as well as affable employee Brandon's list!
LAST CALL! Add 'em if you want 'em!
SUICIDE SQUAD MOST WANTED: DEADPOOL & KATANA (DC) Capitalizing on the hype, DC is putting a spotlight on the characters in the upcoming movie!
GHOSTBUSTERS INTERNATIONAL (IDW) Goin' global.
CRY HAVOC (Image) If Alan Moore says this is the best new comic he's read in years, either it's really good or the creators have pictures of Moore body-painted like Dr. Manhattan, sobbing and eating a philly cheesesteak. I bet it's the former. Oh, the book? It's a military vs. magic book by Si Spurrier and Ryan Kelly, and it looks very promising.
FAITH (Valiant) The fan-favorite character from Harbinger gets her own series!
100 BULLETS TP BOOK 04 24.99
A-FORCE #1
3.99 The ladies are back, post-Secret Wars!
A-FORCE #1 CAMPBELL MARVEL 92 VAR PI
AGE OF REPTILES ANCIENT EGYPTIANS TP 14.99
AMAZING SPIDER-MAN #1.2 3.99
ANGEL AND FAITH SEASON 10 #22 3.99
ASTERIX AND THE MISSING SCROLL HC 17.99
BALTIMORE HC VOL 06 CULT OF THE RED KING 24.99
BATMAN AND ROBIN ETERNAL #14 2.99
BATMAN ARKHAM KNIGHT TP VOL 01 14.99
BATMAN DETECTIVE COMICS TP VOL 06 ICARUS 16.99
COLOR YOUR OWN DEADPOOL TP 9.99
CONTEST OF CHAMPIONS #4 3.99
DARK CORRIDOR #6 3.99
DARTH VADER #15
VDWN 3.99
DARTH VADER #15 FRANCAVILLA VAR PI
DARTH VADER #15 MANN CONNECTING F VAR PI
DC COMICS BOMBSHELLS #8 3.99
DEADPOOL #5 KOBLICH SECRET COMIC VAR PI
DEADPOOLS SECRET SECRET WARS TP 15.99
DETECTIVE COMICS #48 3.99
DOCTOR STRANGE #4 DEADPOOL VAR PI
DOCTOR WHO 10TH YEAR TWO #4 3.99
DOCTOR WHO 12TH YEAR TWO #1 3.99
FOUR EYES HEARTS OF FIRE #1 (OF 4) 2.99
GI JOE A REAL AMERICAN HERO #223
GRANT MORRISONS 18 DAYS #7 2.99
GUARDIANS OF GALAXY HC VOL 02 34.99
GUARDIANS OF INFINITY #2 4.99
HEROES VENGEANCE #4 (OF 5) 3.99
INJUSTICE GODS AMONG US YEAR FIVE #1 2.99
INVINCIBLE IRON MAN #5 3.99
IT'S HARD TO BE A GIRL GN 26.99
JOE GOLEM OCCULT DETECTIVE #3 3.50
JUNJI ITO'S CAT DIARY YON & MU GN VOL 01 10.99
KUNG FU PANDA #4 (OF 4) 3.99
KUNG FU PANDA TP VOL 02 6.99
LETTER 44 TP VOL 03 19.99
MIRACLEMAN BY GAIMAN AND BUCKINGHAM #6 4.99
MU ULTIMATE SPIDER-MAN AND AVENGERS DIGEST TP 9.99
MY LITTLE PONY FRIENDS FOREVER #24 3.99
ONE PUNCH MAN GN VOL 04 9.99
PACIFIC RIM TALES FROM THE DRIFT #3 3.99
PERFUME OF LILACS GN 25.99
RED HOOD AND THE OUTLAWS TP VOL 07 LAST CALL 14.99
SHERIFF OF BABYLON #2 (OF 8) 3.99
SILVER SURFER TP VOL 03 LAST DAYS 17.99
SONIC MEGA MAN WORLDS COLLIDE COMPLETE EPIC TP PX 29.99
SPIDER-MAN DEADPOOL #1
3.99 By the original Deadpool creative team of JOE KELLY and ED MCGUINNESS!
SPIDER-MAN DEADPOOL #1 ACTION FIGURE PHOTO VAR PI
SPIDER-MAN DEADPOOL #1 CHRISTOPHER ACTION FIGURE VAR I
SPIDER-MAN DEADPOOL #1 DEADPOOL VAR PI
SPIDER-MAN DEADPOOL #1 DEL MUNDO VAR PI
SPIDER-MAN DEADPOOL #1 JOHNSON HIP HOP VAR PI
STAR TREK STARFLEET ACADEMY #2 (OF 5) 3.99
STAR WARS DARTH VADER TP VOL 02 SHADOWS AND SECRET 19.99
STRAY BULLETS SUNSHINE & ROSES #11 3.99
SURVIVORS CLUB #4 3.99
SWAMP THING #1
(OF 6) 2.99 By Len Wein and Kelley Jones!
THIS DAMNED BAND #6 (OF 6) 3.99
TMNT COLOR CLASSICS SERIES 3 #13 3.99
TOIL & TROUBLE #5 (OF 6) 3.99
TOTALLY AWESOME HULK #2 3.99
TOTALLY AWESOME HULK #2 RICHARDSON VAR PI
TRUE BELIEVERS DEADPOOL #1 1.00
TRUE BELIEVERS DEADPOOL ORIGINS #1 1.00
ULTIMATES #3 SALE BLACK PANTHER 50TH ANNIV VAR PI
ULTIMATES #3 SPROUSE VAR PI
UNCANNY X-MEN #1
3.99 led by magneto, this team looks to contain Fantomex, Mystique, Sabretooth, and Archangel… and Cullen Bunn is writing who did a bang up job on Magneto's ongoing!
UNCANNY X-MEN #1 LAND HIP HOP VAR PI
UNCANNY X-MEN #1 LASHLEY VAR PI
That's it for now, see you next year!
P/VC