You can't get enough of best of the year lists, right? Here's affable employee Brandon's fantastic TOP TEN COMICS OF 2015 list:
1. DESCENDER (Image) My favorite series of the year! Descender is a colorful epic that is anthropomorphic charm and sci-fi adventure turned up to eleven. This seems like it was written just for me (although I could say that about everything Lemire writes.)
2. CHEW (Image) This vulgar story about a world full of food related super-abilities is packed with zany, over-the-top twists and turns that delight and repulse. This series has been running for over six years, and it still continues to surprise me.
3. SAGA (Image) A series with a purpose where no issue feels wasted. Many tears will continue to be shed over this fantasy tale of love and parenthood. This recipient of frequent comic awards is incapable of being overrated.
4. PREZ (DC) My favorite DC series of the year. It's hard to believe that this daring and provocative series sells so poorly. As someone who loves politics and satire, this series was a timely and irreverent read.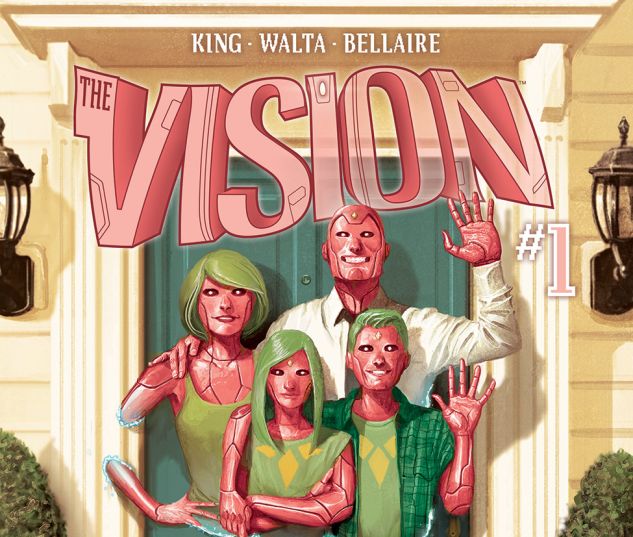 5. THE VISION (Marvel) My favorite Marvel series of the year, and it's only two issues in! Suburban dread invades the Vision family's "perfect life." Each page of this unique superhero series drips with melancholy. Also, more anthropomorphic charm (noticing a trend?)
6. TOKYO GHOST (Image) This is prophetic sci-fi at it's best. Every issue forces a mirror up to our society's obsession with entertainment and leisure. Add in a tragically unconventional love story and this series becomes something special.
7. KLAUS (Boom) Anyone close to me knows my obsession with the Christmas season; therefore, a series reimagining the legend of Father Christmas himself was bound to end up on my favorites list. In only two issues, this series has already built an enchanting world of one man's rebellion against greed and grief.
8. PLUTONA (Image) It's hard to write memorable and authentic teen characters who aren't superheroes, but this series succeeds with flying colors. With every issue, this slow-burning miniseries marries sensibility with malice, while telling a simple story about kids and their heroes.
9. SOUTHERN BASTARDS (Image) Dirty. Bloody. Brash. Southern Bastards continues to both repulse and impress with each issue. Although the series continues to dance around it's central narrative, two recent religiously-themed one-shots are perhaps the most memorable issues so far.
10. THE OMEGA MEN (DC) A character study on Kyle Rayner set in a world of galactic terrorism. Each issue of this impeccably paced series combines sci-fi intrigue with quotes from 19th century philosopher William James.
DON'T FORGET! Our first DRAW MONTHLY! competition is happening! The first character: DOCTOR STRANGE! 9" x 12" max, any media. The winning entry gets store credit and the pick of the next DRAW MONTHLY! character! I hope you're working on yours!
SUPERMAN: THE COMING OF THE SUPERMEN (DC) Neal Adams writes and draws this mini about a whole lotta different Supermans.
DIRK GENTLY: TOO SHORT A SPOON (IDW) More of this!
DEADPOOL: MERCS FOR MONEY (Marvel) Gosh, it's really unlike Marvel to flood the market and oversaturate it with popular characters. I wonder if they're feeling okay.
SPIDER-MAN (Marvel) Ahhhh, finally! Miles Morales is back, is Spider-Man, and is in the regular MArvel Universe!
KENNEL BLOCK BLUES (Boom!) The Shawshank Redemption, but in an animal shelter. There's some hype on this one.
SHIPPING! Here's what's coming for you to enjoy

WEDNESDAY, JANUARY 13

:
AFTERLIFE WITH ARCHIE TP VOL 01 17.99
ALABASTER THE GOOD THE BAD & THE BIRD #2 3.99
ALICE COOPER VS CHAOS #5 (OF 6) 3.99
ALL NEW ALL DIFFERENT AVENGERS #3 3.99
ALL NEW ALL DIFFERENT AVENGERS #3 CHAN VAR PI
ALL NEW HAWKEYE #3 HENDERSON VAR PI
ALL NEW WOLVERINE #4 3.99
ALL NEW WOLVERINE #4 RANEY DEADPOOL VAR PI
ALL NEW WOLVERINE #4 SOOK VAR PI
ALL NEW X-MEN #3 FERRY VAR PI
ALL NEW X-MEN #3 LIEFELD MARVEL 92 VAR PI
ANGEL AND FAITH SEASON 9 LIBRARY ED HC VOL 03 29.99
AVENGERS TIME RUNS OUT TP VOL 03 19.99
BACK TO THE FUTURE #4 (OF 5) 3.99
BATMAN 66 MEETS THE MAN FROM UNCLE #2 (OF 6) 2.99
BATMAN AND ROBIN ETERNAL #15 2.99
BATMAN TEENAGE MUTANT NINJA TURTLES #2 (OF 6) 3.99
BATMAN TEENAGE MUTANT NINJA TURTLES #2 (OF 6) VAR PI
BLACK JACK KETCHUM #2 (OF 4) 3.99
CAPTAIN AMERICA SAM WILSON #5 3.99
CATWOMAN #48 2.99
CITIZEN JACK #3 3.99
CODENAME BABOUSHKA CONCLAVE OF DEATH #4 3.99
CONSTANTINE THE HELLBLAZER #8 2.99
DAREDEVIL EPIC COLLECTION TP TOUCH OF TYPHOID 39.99
DEADPOOL FLASHBACKS TP 19.99
DEATH OF WOLVERINE TP 19.99
DOC SAVAGE SPIDERS WEB #2 3.99
DOCTOR WHO 2015 FOUR DOCTORS HC 19.99
DOCTOR WHO 8TH #3 (OF 5) 3.99
DOCTOR WHO MAGAZINE #494 11.99
DR MIRAGE SECOND LIVES #2 (OF 4) 3.99
ENORMOUS V2 #4 (OF 6) 3.99
EVIL DEAD 2 CRADLE OF THE DAMNED #1 3.99
EXTRAORDINARY X-MEN #5 3.99
FABLES THE WOLF AMONG US #13 3.99
FASTER THAN LIGHT #5 2.99
FLASH HC VOL 07 SAVAGE WORLD 22.99
FLASH TP VOL 06 OUT OF TIME 16.99
FROM UNDER MOUNTAINS #4 2.99
GOD IS DEAD TP VOL 07 19.99
GREEN LANTERN CORPS EDGE OF OBLIVION #1 (OF 6) 2.99
GROO FRIENDS AND FOES #12 3.99
GUARDIANS OF GALAXY #4 3.99
GUARDIANS OF GALAXY #4 SLINEY DEADPOOL VAR PI
GUTTER MAGIC #1 (OF 4) 3.99
HELLBLAZER TP VOL 12 HOW TO PLAY WITH FIRE 19.99
KUNG FU PANDA TP VOL 01 6.99
LEAVING MEGALOPOLIS SURVIVING MEGALOPOLIS #1 3.99
LEGEND OF WONDER WOMAN #1 (OF 9) 3.99
LONE WOLF & CUB OMNIBUS TP VOL 11 19.99
MARVEL UNIVERSE GUARDIANS OF GALAXY #4 2.99
MASSIVE NINTH WAVE #2 3.99
MIGHTY MORPHIN POWER RANGERS #0 MAIN CVRS 3.99
MIGHTY THOR #3 BIANCHI VAR PI
MY LITTLE PONY EQUESTRIA GIRLS TP 17.99
MY LITTLE PONY FRIENDSHIP IS MAGIC #38 3.99
NEW ROMANCER #2 (OF 12) 3.99
NEW SUICIDE SQUAD #16 2.99
PITIFUL HUMAN LIZARD #3 2.99
PRINCELESS RAVEN PIRATE PRINCESS TP VOL 01 14.99
RANMA 1/2 2IN1 TP VOL 12 14.99
ROBIN WAR #2 (OF 2) VAR ED PI
ROSALIE LIGHTNING GRAPHIC MEMOIR HC 19.99
SCARLET WITCH #2 ANKA VAR PI
SCOOBY DOO WHERE ARE YOU #65 2.99
SECRET WARS #9
(OF 9) 4.99 Yep, this is actually happening. This week. For real. Find out how the new Marvel Universe you've been enjoying got created!
SECRET WARS #9 (OF 9) BIANCHI VAR PI
SECRET WARS #9 (OF 9) CHRISTOPHER ACTION FIGURE VAR PI
SECRET WARS #9 (OF 9) HEMBECK CLASSIC VAR PI
SECRET WARS #9 (OF 9) PICHELLI VAR PI
SECRET WARS #9 (OF 9) YOUNG VAR PI
SHUTTER TP VOL 03 QUO VADIS 14.99
SONIC SUPER DIGEST #15 4.99
SOUTHERN CROSS TP VOL 01 9.99
SPONGEBOB COMICS #52 3.99
SQUADRON SUPREME #3 KIRK VAR PI
STAR TREK ONGOING #53 3.99
STAR WARS TP VOL 02 SHOWDOWN ON THE SMUGGLERS MOON 19.99
SUPERMAN AMERICAN ALIEN #3 (OF 7) 3.99
TMNT AMAZING ADVENTURES #6 3.99
TRUE BELIEVERS DETECTIVE DEADPOOL #1 1.00
TRUE BELIEVERS UNCANNY DEADPOOL #1 1.00
UNCANNY AVENGERS #4 DEADPOOL VAR PI
WALKING DEAD #150 RETAILER APPRECIATION VAR PI
WAR STORIES TP VOL 03 24.99
X-O MANOWAR TP VOL 10 EXODUS 14.99
That's it for now, see you soon!
P/VC