SO last week you might recall I'd mentioned a sale? The whole week before SMALL BUSINESS

SATURDAY

on

November 28

? Well, here's what's up: starting on

Monday November 23

, we will be doing a different FEATURE SALE AREA in the shop. And they're gonna be BIG areas. Want to know what the schedule will be? We'll announce each day the morning of on our social media platforms-- facebook, twitter, tumblr, and instagram-- so be sure to check those out every day. leading up to

Saturday

, which is going to be as big a blowout as FCBD! Get excited! Oh, and here's our social media account names:
Facebook: Velocity Comics Official Page
Instagram: velocity_comics
Remember back in the day, at the old Velocity location, we used to do drawing contests? We are finally ramping up again! MONTHLY DRAW! will have a soft opening run in December and hopefully break out big in January. Here's how MONTHLY DRAW! will work: artists will do a drawing of a designated character, the final version of which can't be larger than 9" x 12". And media is fine. Rawn and I and a rotating array of local celebrity guest judges will decide on a winner, and the winner will be awarded an ample amount of store credit! And gets to choose the next MONTHLY DRAW! character! Sharpen your pencils, clean your brushes, and get ready to get creative! If you're into it. Don't feel you have to. The first MONTHLY DRAW! subject will be… D O C T O R S T R A N G E ! ! ! !
LAST CALL: our orders lock on these following titles very soon, and they ship in a couple weeks. Please please please tell us you want whichever ones you do added to your lists, so we order enough!
ALABASTER: THE GOOD, THE BAD AND THE BIRD (Dark Horse) This underrated series about a girl walking through a supernatural post-apocalyptic Earth is very worth your time. We've got the first volume available if you'd like to take a gander.
MASSIVE: NINTH WAVE (Dark Horse) Brian Wood returns to his near-future eco-warrior adventure.
BATMAN/TEENAGE MUTANT NINJA TURTLES (DC) Great creative team, and something the world has probably been hoping it would see for decades.
NEW ROMANCER (DC/Vertigo) This looks soooooo 90s Vertigo. That's a compliment.
EIGHTH SEAL (IDW) I was really hoping this would be about a bunch of cuddly antarctic barkers, but alas it is not. Political intrigue + demonic nightmares manifesting in reality.
SYMMETRY (Image) Utopia ain't all it's cracked up to be in this new sci-fi series. Is it ever?
VIOLENT (Image) I'll be monitoring this one pretty closely. Up and coming writer Ed Brisson wowed with 'Sheltered', here he drags us through a grimy crime redemption story.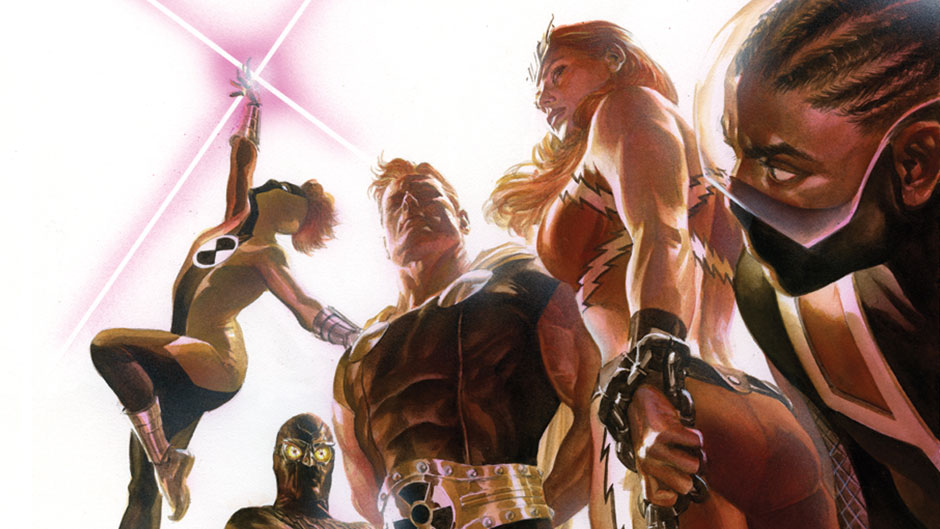 SQUADRON SUPREME (Marvel) Into it. Very into it. Sole survivors of destroyed universes in Secret Wars band together for a hardline approach to fighting evil.
STARBRAND & NIGHTMASK (Marvel) The enigmatic powerhouses from Hickman's Avengers get a college, manga-inspired makeover! Huh.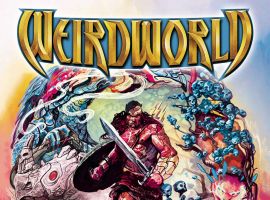 WEIRDWORLD (Marvel) Now on Earth! I have no idea what to expect from this, other than stunning art by Mike del Mundo. That's good enough for me.
SNOW BLIND (Boom!) Winter noir!
PRECINCT (D.E.) Steampunk cop caper!
SHIPPING on

WEDNESDAY, NOVEMBER 18

:
A-FORCE TP WARZONES VOL 00 16.99
ADVENTURE TIME FIONNA & CAKE CARD WARS #5 (OF 6) 3.99
ALL NEW X-MEN TP VOL 06 ULTIMATE ADVENTURE 19.99
ANDRE THE GIANT GN CLOSER TO HEAVEN 12.99
ASTERIX AND THE MISSING SCROLL HC 17.99
ASTONISHING ANT-MAN #2 3.99
ASTONISHING ANT-MAN #2 PERKINS VAR PI
ASTRO CITY LOVERS QUARREL HC 24.99
BATMAN & ROBIN HC VOL 07 ROBIN RISES 24.99
BATMAN & ROBIN TP VOL 06 THE HUNT FOR ROBIN 16.99
BATMAN 1966 CATWOMAN BUST 59.99
BATMAN AND ROBIN ETERNAL #7 2.99
BATMAN ARKHAM KNIGHT GENESIS #4 (OF 6) 2.99
BATMAN EUROPA #1
(OF 4) 4.99 Only about a decade in the making, and maybe not with the same creative team, but here it is!
BATMAN EUROPA #1 (OF 4) VAR ED PI
BIG TROUBLE IN LITTLE CHINA #18 3.99
BLACK KNIGHT #1
3.99 One of the most under-utilized, underrated characters in the Marvel stables gets a shot at an ongoing! I hope it's good.
BPRD HELL ON EARTH #137 3.50
CAPTAIN AMERICA SAM WILSON #3 3.99
CAPTAIN AMERICA SAM WILSON #3 EPTING VAR PI
CAPTAIN MARVEL AND CAROL CORPS TP 15.99
COPS FOR CRIMINALS #1 3.99
DARK HORSE PRESENTS 2014 #16 5.99
DARK TOWER DRAWING OF THREE LADY OF SHADOWS #3 3.99
DC ICONS BATMAN LAST RIGHTS AF 24.95
DC ICONS DEADMAN BRIGHTEST DAY AF 24.95
DC ICONS GREEN ARROW LONGOBOW HUNTERS AF 24.95
DEADPOOL #2 KOBLISH SECRET COMIC VAR PI
DIRK GENTLYS HOLISTIC DETECTIVE AGENCY #5 (OF 5) 3.99
DOCTOR WHO MAGAZINE #492 9.99
ESCAPE FROM NEW YORK #12 3.99
ETERNAUT HC 39.99
EXTRAORDINARY X-MEN #2 3.99
EXTRAORDINARY X-MEN #2 WADA VAR PI
FAIRY GIRLS GN VOL 01 10.99
GIANT DAYS #8 (OF 12) 3.99
GIANT DAYS TP VOL 01 9.99
GODZILLA IN HELL #5 (OF 5) 3.99
GREEN LANTERN THE LOST ARMY #6 2.99
GUARDIANS OF GALAXY TP VOL 04 ORIGINAL SIN 19.99
GUARDIANS OF KNOWHERE TP 15.99
HARLEY QUINN #22 VAR ED PI
HUCK #1
3.50 Mark Millar's quieter-looking book about a super powered gent from a small town whose secrets spill out. Drawn by the sublime Rafael Albuquerque.
I HATE FAIRYLAND #2 CVR A YOUNG 3.50
I HATE FAIRYLAND #2 F*CK (UNCENSORED) FAIRYLAND VAR PI
JEM & THE HOLOGRAMS #9 3.99
JIM HENSONS STORYTELLER WITCHES HC 24.99
KORVAC SAGA TP WARZONES 19.99
LADY MECHANIKA TP VOL 01 MYSTERY OF MECHANICAL 19.99
LOGICOMIX GN NEW PTG 25.00
LOOKING FOR GROUP #8 4.99
LUCKY LUKE TP VOL 55 ARIZONA 11.95
MARTIAN MANHUNTER #6 2.99
MARVEL UNIVERSE AVENGERS ASSEMBLE SEASON TWO #13 2.99
MARVEL ZOMBIES TP BATTLEWORLD 15.99
MASKS 2 #8 (OF 8) 3.99
MIGHTY THOR #1
4.99 Carrying on like before!
MIGHTY THOR #1 COIPEL VAR PI
MIGHTY THOR #1 DAUTERMAN DESIGN VAR PI
MIGHTY THOR #1 DAUTERMAN VAR PI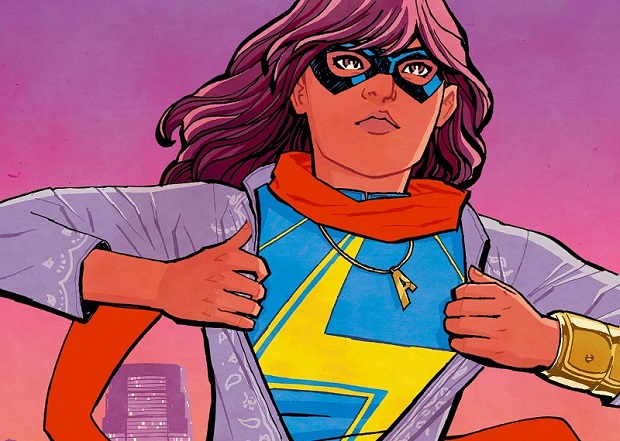 MS MARVEL #1
4.99 Carrying on like before, except now she's an Avenger!
MS MARVEL #1 PICHELLI VAR PI
MS MARVEL TP VOL 04 LAST DAYS 17.99
MULAN REVELATIONS #4 (OF 4) 3.99
MY LITTLE PONY ADVENTURES IN FRIENDSHIP HC VOL 04 12.99
MY LITTLE PONY FRIENDSHIP IS MAGIC #36 3.99
NEW AVENGERS #3 BURNHAM VAR PI
NEW CONSTRUCTION 2 MORE STORIES GN 17.95
NEW SUICIDE SQUAD #14 2.99
ORPHAN BLACK HELSINKI #1 (OF 5) 3.99
OUR EXPANDING UNIVERSE TP 19.99
PHONOGRAM THE IMMATERIAL GIRL #4 (OF 6) 3.99
PRETTY DEADLY #6 3.50
QUIT YOUR JOB AND OTHER STORIES GN 19.95
RAGNAROK HC VOL 01 LAST GOD STANDING 24.99
RED THORN #1
3.99 Celtic lore new Vertigo book!
RICK & MORTY TP VOL 01 19.99
SANDMAN TP VOL 01 PRELUDES & NOCTURNES NEW ED 19.99
SCUD THE DISPOSABLE ASSASSIN WHOLE SHEBANG TP NEW 34.99
SECONDS HELPING DRAWING ASST MEMOIR ONE SHOT 6.00
SECRET WARS 2099 TP 16.99
SHIGERU MIZUKI HITLER TP 24.95
SILVER SURFER EPIC COLLECTION TP FREEDOM 34.99
SIMPSONS WINTER WINGDING #10 4.99
SOLDIERS HEART TP WWII VETERAN DAUGHTERS MEMOIR 39.99
SONIC THE HEDGEHOG #278 3.99
SPIDER-WOMAN #1
3.99 Jess is pregnant?!? Whhhaaaaa?
SPIDER-WOMAN #1 OUM VAR PI
STAR TREK GREEN LANTERN #5 (OF 6) 3.99
STAR WARS #12 IMMONEN SKETCH VAR PI
STAR WARS TP JOURNEY TO SW FORCE AWAKENS SHATTER 16.99
STAR WARS VADER DOWN #1
VDWN 4.99 The first in-universe crossover starts here!
STAR WARS VADER DOWN #1 JONES VAR PI
STAR WARS VADER DOWN #1 ZDARSKY JAXXON VAR PI
SUPERMAN EARTH ONE TP VOL 03 14.99
SUPERMAN WONDER WOMAN TP VOL 02 WAR AND PEACE 16.99
SWAMP THING DARKER GENESIS TP 19.99
TITANS HUNT #2 (OF 12) 3.99
TOKYO GHOUL GN VOL 03 12.99
TRICK R TREAT DAYS OF DEAD GN 16.99
UNCANNY AVENGERS ANNUAL #1 4.99
UNCANNY INHUMANS #2 ASRAR VAR PI
UNCANNY INHUMANS #2 CHEUNG VAR PI
VOLTRON FROM THE ASHES #3 (OF 6) 3.99
WILL EISNER CHAMPION OF THE GRAPHIC NOVEL HC 40.00
WRATH OF THE ETERNAL WARRIOR #1 3.99
That's it for now, see you soon!
P/VC