We are implementing a slight change to how we manage subscriber pull lists: there will be a small blackout window from Tuesdays at

noon

until Thursdays at

10am

for adding and dropping. Between checking in hundreds of pounds of books and getting the pull done on Tuesday and then going into Wednesday, the busiest day of the week, it's getting too hectic to pause for last minute changes. You can send requests along in that time period, but they won't be updated until Thursday morning. So if there's a book you really want, please come in on Wednesday to ensure you'll get it.
LAST CALL for this week: if you want any of these on your pull lists, now's the time to tell us! Note: All the Convergence books this week take place in the pre-New 52 Flashpoint era.
REBELS (Dark Horse): New Revolutionary War ongoing by Brian Wood!
CONVERGENCE: ATOM (DC): Ray Palmer! Ryan Choi!
CONVERGENCE: BATGIRL (DC): Stephanie Brown! Cassandra Cain!
CONVERGENCE: BATMAN & ROBIN (DC) Damian vs. Jason!
CONVERGENCE: HARLEY QUINN (DC): Harley vs… Captain Carrot?!?
CONVERGENCE: JUSTICE LEAGUE (DC) The ladies of the DCU unite!
CONVERGENCE: NIGHTWING & ORACLE (DC) Romance and Hawkpeople!
CONVERGENCE: THE QUESTION (DC): Greg Rucka! Cully Hamner! Renee Montoya!
CONVERGENCE: SPEED FORCE (DC): Wally West and his kids!
CONVERGENCE: SUPERMAN (DC): Lois & Clark happily married!
CONVERGENCE: TITANS (DC): DC has a lot to answer for for their treatment of Roy Harper. They'll try here.
JUPITER'S CIRCLE (Image): Frank Quitely-less prequel!
SAVIOR (Image) Todd McFarlane & Clayton Crain's new religion-tinged thriller
MAX RIDE: FIRST FLIGHT (Marvel) James Patterson's novels adapted to comics!
FOX (DARK CIRCLE) Dean Haspiel!
SLEEPY HOLLOW: ORIGINS (Boom!): TV tie-in
JUNGLE GIRL SEASON 3 (DE): You gotta let us know on this one, we are not currently ordering it.
MASKS 2 (DE): Cullen Bunn takes on pulp era heroes teaming up!
KAIJUMAX (Oni): A prison island that houses captured giant monsters. Very promising.
This was a subscriber-heavy newsletter list, sorry about that to non-subscribers who read this. I have attached a picture of a dog dressed like Batman for your enjoyment.
SHIPPING! Here's what's coming out for you on WEDNESDAY, MARCH 18:
ALL NEW CAPTAIN AMERICA #5 3.99
ALL NEW X-MEN #39 BV 3.99
ALL NEW X-MEN PREM HC VOL 06 ULTIMATE ADVENTURE 24.99
ALTERED STATES DOC SAVAGE ONE SHOT 3.99
AMAZING SPIDER-MAN #16.1 3.99
AMAZING SPIDER-MAN #16.1 BIANCHI VAR PI
BALTIMORE HC VOL 05 APOSTLE & WITCH OF HARJU 24.99
BATGIRL #40 MOVIE POSTER VAR ED 2.99
BATMAN SUPERMAN #20 MOVIE POSTER VAR ED 3.99
BATMAN SUPERMAN #20 VAR ED PI
BOBS BURGERS TP VOL 01 17.99
BPRD HELL ON EARTH TP VOL 10 DEVILS WINGS 19.99
BUCKY BARNES WINTER SOLDIER #6 3.99
CAPTAIN AMERICA AND MIGHTY AVENGERS #6 3.99
CHRONICLES OF CONAN TP VOL 29 SHAPE IN THE SHADOW 19.99
CHRONICLES OF KING CONAN TP VOL 10 WARLORD OF KOTH 19.99
CHRONONAUTS #1
3.50 Superstar creators Mark Millar and Sean Murphy team up to bring us this time travel science fiction yarn.
COURAGEOUS PRINCESS HC VOL 01 BEYOND HUNDRED KINGDOM 19.99
COURTNEY CRUMRIN SPEC ED HC VOL 07 24.99
DARK HORSE PRESENTS 2014 #8 4.99
DEADLY CLASS TP VOL 02 KIDS OF THE BLACK HOLE 14.99
DEADPOOLS ART OF WAR TP 12.99
DUNGEONS & DRAGONS LEGENDS OF BALDURS GATE #5 3.99
EARTH 2 WORLDS END #24 2.99
FATHOM KIANI VOL 4 #2 3.99
FLY OUTBREAK #1 (OF 5) 3.99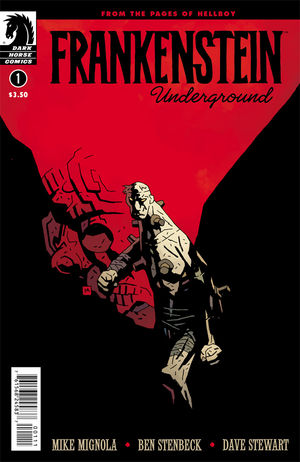 FRANKENSTEIN UNDERGROUND #1
(OF 5) 3.50 Mike Mignola's version of the beloved monster gets his own series, set in the Hellboy universe.
GARBAGE PAIL KIDS LOVE STINKS (ONE SHOT) DLX ED 4.99
GI JOE A REAL AMERICAN HERO #211 3.99
GREEN LANTERN NEW GUARDIANS #40 3.99
GROO FRIENDS AND FOES #3 3.99
GUARDIANS GALAXY PREM HC VOL 04 ORIGINAL SIN 24.99
GUARDIANS TEAM-UP #3 BV 3.99
INFINITE CRISIS FIGHT FOR THE MULTIVERSE #9 3.99
INJUSTICE GODS AMONG US YEAR THREE #12 2.99
INVISIBLE REPUBLIC #1 2.99
JUSTICE LEAGUE OF AMERICA TP VOL 02 SURVIVORS 16.99
LAZARUS TP VOL 03 CONCLAVE 14.99
LITTLE NEMO RETURN TO SLUMBERLAND #4 3.99
LOKI AGENT OF ASGARD #12 3.99
MANHATTAN PROJECTS SUN BEYOND THE STARS #1
3.50 Same great story, but now being broken up into digestable minis. Mmmm.
MARVEL UNIVERSE GUARDIANS OF GALAXY #2 (OF 4) 2.99
MOON KNIGHT #13
3.99 Cullen Bunn jumps on as writer, and promises to make this book as weird and as 70s as he can. I like that.
MS MARVEL TP VOL 02 GENERATION WHY
15.99 The most acclaimed book in Marvel's roster gets its 2nd trade!
MY LITTLE PONY FRIENDSHIP IS MAGIC #28 3.99
NEW 52 FUTURES END #46 (WEEKLY) 2.99
NIGHTWORLD TP VOL 01

MIDNIGHT

SONATA 12.99
OINK HEAVENS BUTCHER TP 17.99
OUTCAST BY KIRKMAN & AZACETA #7 2.99
POWERPUFF GIRLS SUPER SMASH-UP #3 (OF 6) 3.99
PRINCESS LEIA #2 (OF 5) 3.99
PRINCESS LEIA #2 (OF 5) MALEEV VAR PI
PROPHET TP VOL 04 JOINING 17.99
RED HOOD AND THE OUTLAWS #40 2.99
ROCKETEER THE COMPLETE ADVENTURES TP 19.99
SECRET IDENTITIES #2 3.50
SENSATION COMICS FEATURING WONDER WOMAN #8 3.99
SIMPSONS COMICS #219 2.99
SOLAR MAN OF ATOM #10 3.99
SONIC SAGA TP VOL 07 DARK MIRROR 11.99
SPARKS NEVADA MARSHAL ON MARS #2 (OF 4) 3.50
STAR TREK PLANET OF THE APES #4 (OF 5) 3.99
STRAIN NIGHT ETERNAL #7 3.99
STRANGE SPORTS STORIES #1 (OF 4)
4.99 New Vertigo anthology!
STRANGE SPORTS STORIES #1 (OF 4) VAR ED PI
STRAY BULLETS SUNSHINE & ROSES #2 3.50 5
SUPERGIRL #40 MOVIE POSTER VAR ED 2.99
SUPERMAN #39 HARLEY QUINN VAR ED
SUPERMAN WONDER WOMAN TP VOL 01 POWER COUPLE (N52) 16.99
TEEN TITANS #8 MOVIE POSTER VAR ED 2.99
TERRIBLE LIZARD #5 (OF 5) 3.99
TRANSFORMERS #39 COMBINER WARS OPENING SALVO 3.99
UNBEATABLE SQUIRREL GIRL #3 3.99
UNBEATABLE SQUIRREL GIRL #3 THOMPSON VAR PI
USAGI YOJIMBO SAGA TP VOL 02 24.99
X-FILES SEASON 10 #21 3.99
That's it for now! See you soon!
PKG/VC